OJAA's Topgolf Fundraiser is now live! Please use the link below to sign up, sponsor, or donate. Feel free to forward to all of your friends and family.
The Omaha Jewish Alumni Association proudly presents our first ever fundraiser! On August 15, 2021 OJAA will be holding a fundraiser at Topgolf in Omaha at 908 N 102nd St, Omaha, NE 68114 from 12:00 P.M. to 3:00 P.M. Tickets for the event are $54 per adult and $36 per child and include 3 hours of golf, lunch, and a drink ticket.  Bays are currently limited to 6 people, so round up a group of friends, or sign up and meet some new ones! 
We look forward to seeing you on August 15th, 2021.
All money raised from this OJAA fundraiser will be distributed by the Jewish Federation of Omaha Foundation to families who need financial assistance to enroll or keep their child or children enrolled at the Pennie Z. Davis Early Learning Center (formerly known as the Child Development Center) at the JCC. If you unable to make it or are out of town, there will still be a donation option if you are so inclined. We are very excited to see as many of you as possible on August 15th!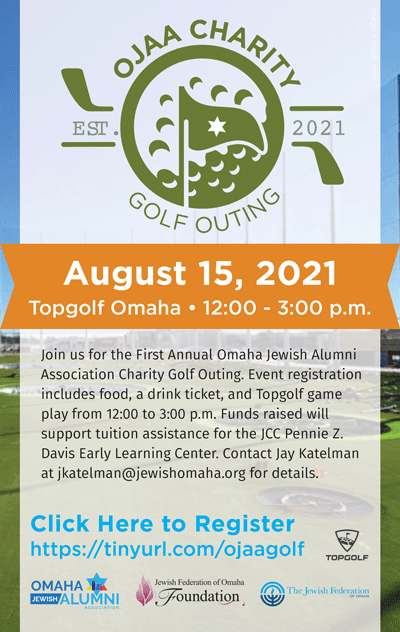 Click here to follow the Omaha Jewish Alumni Association on Facebook and join the conversation!


As we congratulate Margo Parsow on her well-deserved retirement, the Jewish Federation of Omaha Foundation would like to introduce you to Jay Katelman, who has taken over as the LIFE & LEGACY and Omaha Jewish Alumni Association (OJAA) Coordinator.  In addition to this role, Jay is also the Community Development Leader at the Jewish Federation of Omaha.  In this role, he is tasked with cultivating new community relationships, both personal and corporate, that will benefit the Jewish Federation of Omaha.  Jay was born and raised in Omaha, graduated from Westside High School, and completed a double major in Marketing and Management from the University of Nebraska Omaha.  He is currently working on his Master's in Organization Leadership at Creighton University. 
Jay married his high school sweetheart Katrina, and they just welcomed their first child in February.  Their daughter Vivian is the center of attention and already has her father wrapped around her little fingers.  He loves to spend an afternoon on the golf course with friends and is a lifelong sports fan and a diehard "Jaysker," he supports Husker football and holds season tickets for both Creighton Men's Basketball and UNO Maverick Hockey. 
Jay is excited to start working as the LIFE & LEGACY and Omaha Jewish Alumni Association (OJAA) Coordinator and looks forward to meeting and speaking with all of our community members.  He loves to meet new people, so please feel free to reach out and introduce yourself!  You can reach him at (402) 334-6461 or at jkatelman@jewishomaha.org.
If you have any questions about OJAA please contact Jay Katelman, OJAA Coordinator at jkatelman@jewishomaha.org or 402-334-6461.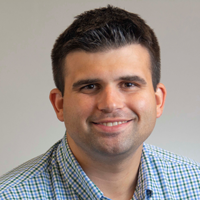 Jay Katelman
LIFE & LEGACY and OJAA Coordinator
jkatelman@jewishomaha.org
402-334-6461