A Story of Survival and Gratitude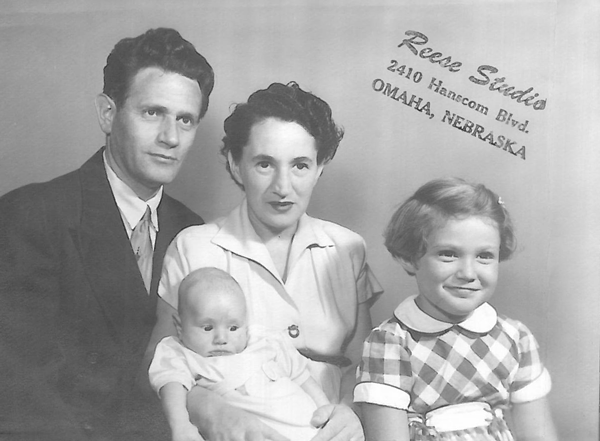 Frances Rubinstein and Leo Rodick were among the many thousands of people who went to a Displaced Persons camp after World War II.  Frances, who was originally from Poland, survived the concentration camps of Bergen Belsen, Auschwitz and Majdanek.  Also from Poland, Leo Rodick had been conscripted into the Red Army after the Soviet Union annexed the part of Poland that was his home.  Frances lost her entire family in the Holocaust.  Leo's parents also perished, but his two brothers survived.  It was at a DP camp in Germany where Frances and Leo met, fell in love, married and welcomed the birth of their first child, Helen.
Sponsored by the Jewish Federation of Omaha, the three Rodicks arrived in Omaha in 1948.  Frances and Leo arrived with no money, no knowledge of the English language, no clothes other than what was on their backs, and a year-old baby. 
Leo had been a barber in the Russian Army. Bennett, the Rodick's second child, reminisced that, "Dad used to talk about how he would walk into south Omaha barber shops  and ask for work by showing barbering hand motions until one day an area barber hired him."  In time, Leo had his own shop on 24th and Vinton.
Frances stayed home to care for Helen and son Bennett, who was born in Omaha.  Bennett said that his mother very rarely spoke of her experience in the concentration camps.  He did recount that "she once mentioned being in the lines overseen by Dr. Mengele, who divided people in lines for life/work and for death." 
"The support of the Jewish Federation was so very, very important in helping them get on their feet.  The Federation arranged for their first apartment, furniture, groceries and spending money," Bennett said.  Bennett further related that, "Mom mentioned how they wanted to go to the movies but didn't know the English word for movie theatre or how to get to one.  As difficult as it was, they knew that they had support and caring from Omaha's Jewish Community."
Frances passed away in 1992 and Leo in 1995.  In memory of their parents, Bennett Rodick and his wife, Gretchen Klein Rodick, and his sister and brother-in-law, Helen and Jack Rabinowitz created the Leo and Frances Rodick Memorial Fund in 1996. The Fund's purpose was to assist the day to day living expenses, and to provide subvention assistance in cultural, educational, and career training programs for Jews who immigrated to the Omaha metropolitan area from the former Soviet Union or other troubled regions of the world.  After assisting many new residents, and after the decline of new immigrants, Bennett and Helen and their spouses amended the fund.  Any unspent or unallocated income can now also be used by Jewish Family Service for general help and assistance to needy Jews in the Omaha area.  Last year, Jewish Family Service used the fund for rent, utilities, laundry, bus passes, medical bills, gas cards and car payments for those in need  Throughout the years, the Rodick's children have generously donated to the fund to ensure that the fund created in honor of their parents continues to help those in need of assistance. 
Since the fund's inception, Bennett Rodick has made donations, keeping the fund viable and enabling it to grow and to achieve the stated goals.  Bennett sums up his gratitude for the Federation and admiration of his parents, "I have such deep appreciation for them making a normal Midwestern American home for my sister and me when their lives were anything but.  Both mom and dad would always talk about how the Federation had helped them when they got to Omaha and they based their lives around their Shul (Beth Israel) and the Jewish Community Center." 
With the help of the Jewish Federation of Omaha, Leo and Frances Rodick were able to build a new life for themselves and their children despite the tragedy in their lives.  Their loving children have, in turn, given support to others needing a helping hand.  What goes around comes around.  The Jewish Federation of Omaha once helped a young family from war-torn Europe to resettle in Omaha, and the children of that couple have been helping numerous others in gratitude for the support given their parents.