Meyers Family Establishes an Endowment Fund in Honor of Bernie & Roie Meyers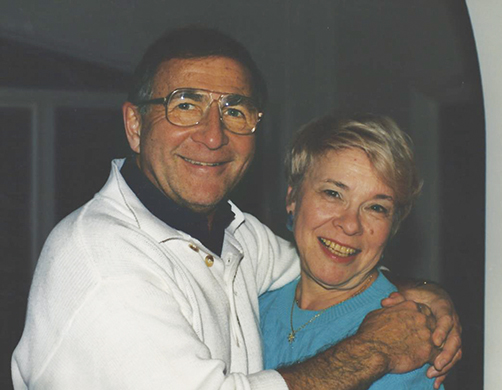 In a loving tribute to their parents, Bernie and Roie Meyers, Vicki Perlmeter, Bruce and Mike Meyers established the Meyers Family Legacy of Laughter Endowment Fund at the Jewish Federation of Omaha Foundation. According to a family statement, "The mission of The Meyers Family Legacy of Laughter Endowment is to keep that laughter alive, to spread joy to the residents of the Rose Blumkin Jewish Home and the Jewish community it serves. If we can bring a smile, a chuckle, a giggle, or a guffaw to people who have earned the right to have a good, healthy laugh, then the full and happy lives of Roro and Bobo will have added up to something truly meaningful: The Joy of Laughter." The Endowment will sponsor The JOY OF LAUGHTER Live Comedy Series. The Fund will present semi-annual events offered and organized by the activities department of the Rose Blumkin Jewish Home to entertain and benefit the residents of the Home, their families, and the entire community.
To Bernie and Roie Meyers, family was the most important thing. Mike said, "Our parents loved to laugh with family and friends, at themselves, and the crazy world they made better." It is clear that the love Bernie and Roie gave to their family was fully returned by their three children. Vicki, Bruce and Mike speak with great love and respect for their parents. Bernie wrote, "The best decision I ever made: To cohabitate with Roie and have children." 
"While we wanted to do something with humor, it was the staff of the Blumkin Home that came up with the idea of the comedy shows.  We wanted to do more than have a plaque or a bench at the home.  We wanted to be able to give the residents a few minutes of laughter for what can sometimes be a very lonely and isolated life.  Most important, this is our very small way to say thanks to the Blumkin Home staff for 8 years of loving care to dad, and 4 years to mom," according to Bruce.
If you are interested in establishing an endowment fund, please contact Howard Epstein at 402.334.6466 or at hepstein@jewishomaha.org.