Aronson Legacy Continues to Support UNO Scholarships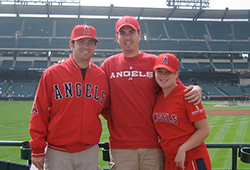 In 1997, the late Bob Aronson honored the memory of his mother, Lenore Aronson, when he established the Lenore Simon Aronson Educational Fund, commemorating her college education and teaching career. 
The fund provides scholarships to female Jewish adults or young adults residing in the Omaha area and pursuing a program at UNO leading to a degree and career in education, who have demonstrated financial need. Scholarships are administered through the Center for Jewish Life (CJL).
A secondary purpose of the fund is to supplement CJL scholarship funds to enable Omaha Jewish youth to attend summer camps sponsored by the Jewish Community Center or camping programs sponsored by other local or national Jewish organizations approved by the CJL.
Aronson's children — Tom, Jon, and Molly — made a commitment to continue supporting the fund. "The three of us definitely share our dad's passion for education," explained Tom Aronson. "We know how much it meant to Dad to honor our grandmother's legacy and we also encourage those in the community who knew Dad to make contributions."