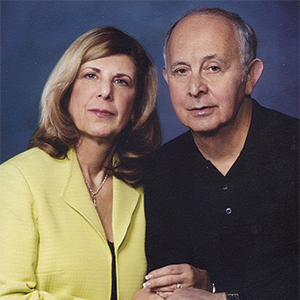 Fond memories of their years as BBYO members left a lasting impression on Sandy and Stuart Kutler. Stuart said that BBYO gave him the opportunity to develop his social and leadership skills and helped build his confidence. He credits his experiences in BBYO with him gaining the confidence to build his own business.  It introduced him to a broader world of culture, arts and people. He still vividly remembers the conventions he attended and the contacts he made with other Jewish youth from around the country. To this day, Stuart counts some of those contacts among his closest friends. 
In an effort to ensure that all of Omaha's Jewish teens can have the same BBYO experiences that the Kutlers enjoyed, they established the Stuart and Sandy Kutler BBYO Leadership Development and Programming Excellence Endowment Fund, administered by the Jewish Federation of Omaha Foundation. The endowment provides funding for the Omaha Jewish community's BBYO program and is dedicated to recruitment, retention and leadership development of its members, subsidizing members' attendance at national, regional and local conclaves, conferences, and conventions and subsidizing metropolitan Omaha-area BBYO programming. Sandy and Stuart realize that financial need may prevent some teens from attending regional and national conventions. This fund is created to enable those teens to fully participate in all BBYO activities. 
Jacob Geltzer, BBYO/Teen Program Director said, "I am so grateful to be a part of a community where people care so much about BBYO and our mission of providing more Jewish teens with more meaningful Jewish experiences.  Thanks to the generosity of Sandy and Stuart, BBYO will be able to continue elevating our programs for our current members and plan more engaging programs for our new and incoming members.  Not only will this encourage our teens to be involved in our local programs, but this fund will also give them the chance to see all levels of BBYO and the many conventions and leadership conferences that we offer throughout the year."
Not only did the Kutlers want to support BBYO, but they wanted to encourage others in the Jewish community to join in helping ensure the continued vibrancy of the organization. The Kutlers generously matched donations up to $100,000. 
BBYO greatly impacted Stuart Kutler's life, and with the establishment of this fund, the lives of many more Omaha Jewish teens can likewise be impacted.