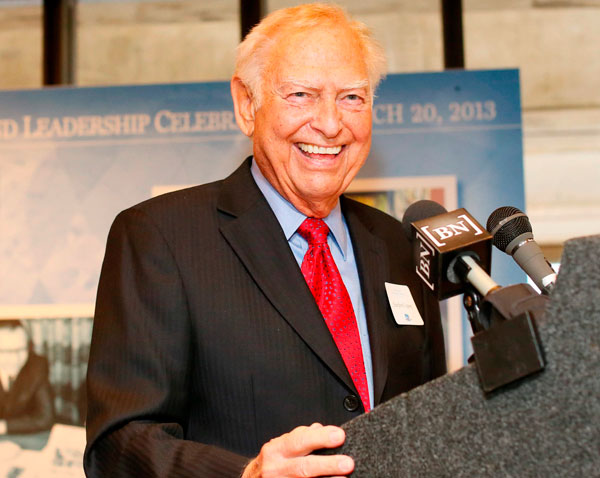 Jewish Press Receives a Vote of Confidence with Inspiring Gift from Newspaper Visionary Stanford Lipsey
Throughout his life, Stanford Lipsey, of blessed memory, described himself as, "just a little kid from Omaha." In fact, he was an award winning publisher, community leader, photographer, philanthropist, and visionary. He was a husband, first to the former Jeanne Blacker of Omaha, and then Judi Hojnacki of Buffalo, NY; father to Janet and Daniel, and grandfather to two grandsons. He was referred to as the most powerful man in Western New York, a friend to governors and senators.
Stan served in the Air Force during the Korean War, and was the editor of the base newspaper at Strategic Air Command Headquarters at Offutt AFB. When his military service was over, Stan worked for The Sun Newspapers. He earned the position of publisher as the company grew. Stan immersed himself in the Omaha community through civic leadership and was a supporter of the Omaha Jewish Federation. He also served on the board of the Jewish Press.
In 1968, Stan sold The Sun Newspapers to Warren Buffett. When Warren purchased The Buffalo Evening News, he asked Stan to head it up. During Stan's career at The News, it became the highest penetration newspaper in the country, and the most profitable per capita.
While Stan may have left Omaha, Omaha never left Stan. Over 20 years ago, he established a Charitable Remainder Trust, and on his death in California in 2016, the proceeds were paid to the Jewish Federation of Omaha, for the benefit of The Jewish Press. The Foundation used the funds to establish the Stanford Lipsey Jewish Press Endowment Fund.  This newly created endowment fund will be used  for the operations and activities of the Jewish Press. "Stan Lipsey's generosity is humbling and inspiring. There are not as many Jewish papers as there once were; for him to give the Jewish Press and the community this gift is truly a vote of confidence," stated Annette van de Kamp-Wright, editor of the Jewish Press.
Stan was a philanthropist with a variety of interests, which were wide-ranging, and reflected a man of many interests, talents, and causes dear to his heart.  He was an exceptionally generous man during his lifetime, and his afterlife gift will continue the legacy of giving that was such a major part of who the man was.  The Jewish Federation of Omaha Foundation is profoundly grateful for Stan's charitable planning for the future of the Jewish Press.