Honoring the Memories of Loved Ones – Steve and Patty Nogg Support Omaha's Jewish Community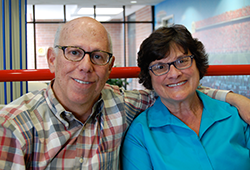 To honor the memories of loved ones, Steve and Patty Nogg established three endowment funds at the Jewish Federation of Omaha Foundation, and made arrangements to create future endowment funds to support the Jewish Federation of Omaha in perpetuity.
In 1994, the Noggs established the Ernie and Adalynn Nogg Memorial Endowment Fund in memory of Steve's parents. The fund's purpose is to support special programming activities at the Jewish Community Center (JCC) for Jewish youth, from preschool through college years. 
"I know that Mom and Dad would love the endowment we established in their memory," said Steve. "Their children, grandchildren and great-grandchildren have had great experiences at the JCC."
To honor the memory of Patty's parents, the Noggs established the Betty A. Studna and Seymour T. Lee Endowment Fund in 2000. The fund supports programs that honor grandparents or any program or project sponsored by the League Offering Volunteerism to the Elderly (L.O.V.E) auxiliary of the Rose Blumkin Jewish Home.
"Steve and I were co-presidents of the Auxiliary for L.O.V.E.," stated Patty. "We got to see the important services provided to older community members. We wanted to honor Mom and Dad's memories by establishing a fund that would support L.O.V.E. programs and projects." 
The Noggs established the Richard "Pete" Lee Memorial Endowment Fund in 1996, in memory of Patty's brother. The fund helps with the costs for providing mental health services such as programming, counseling and education for depression, and suicide prevention offered through Jewish Family Service.
"My brother committed suicide; he was only 48 years old," explained Patty. "He struggled with depression. It's important that people can reach out, without the stigma associated with mental illness. That's why we set up this fund, so that others can receive the assistance they need."
Additionally, Steve made arrangements for a future Perpetual Annual Campaign Endowment (PACE) Fund and Patty will leave a Lion of Judah Endowment (LOJE) Fund, to endow their Annual Campaign gifts in perpetuity.
Patty and Steve Nogg are one just example of the many people who have generously established charitable funds at the Foundation, to ensure that Omaha's Jewish community and programs are sustained for future generations.